June 13, 2020 – COVID-19 Updates – COVID-19每日更新 – 2020年6月13日
COVID-19 Updates – June 13, 2020
Mandatory face masks in public – Yes or No
City of Toronto staff will be presenting a report to the June meeting of City Council with respect to whether or not wearing a face mask should be mandatory when a person is out in public.  I am asking you to express your views on this very important issue.  I look forward to hearing your views.  To express your views, please click here
I had the opportunity to provide PPE to Bridlegrove Bible Chapel for the religious opening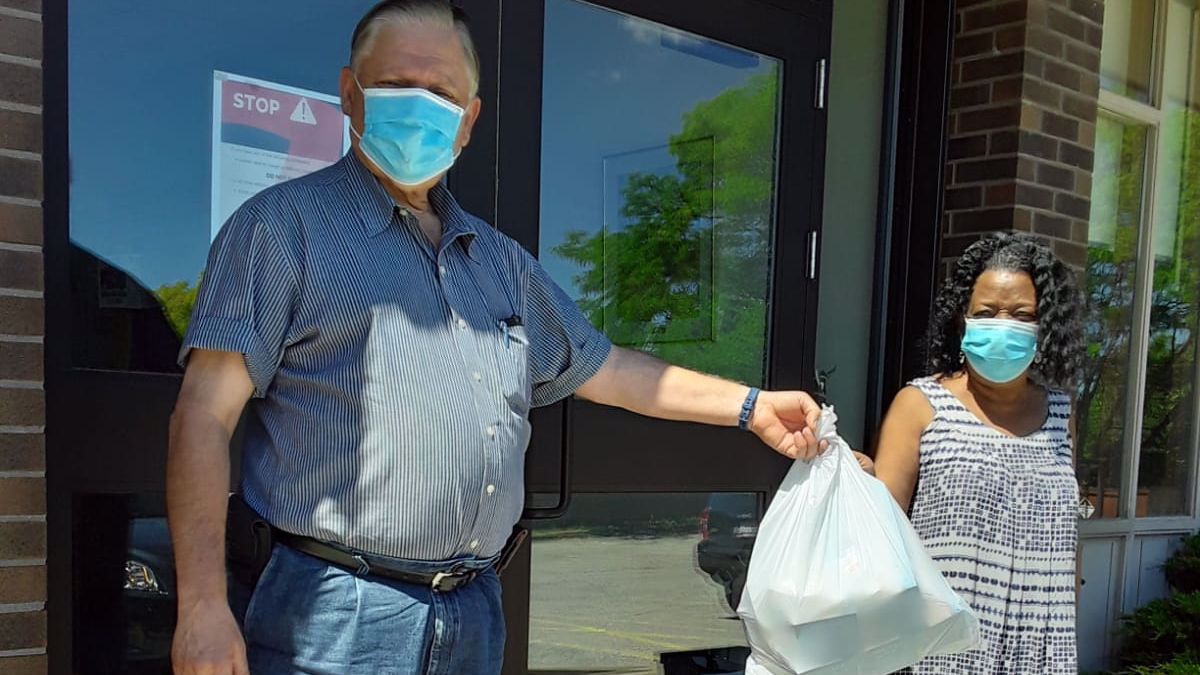 Please take a moment to pass along this message to your family, neighbours and friends. If you would like to sign someone up for our e-mailing list, please send me their e-mail addresses at jim@karygiannis.net
City of Toronto
Toronto Public Health launches COVID-19 monitoring dashboard. A key role of public health in the battle against COVID-19 is to use current evidence and local data to inform decisions about interventions and measures to keep residents safe and healthy. Today, as progress towards reopening continues to be monitored, the City of Toronto is pleased to launch a new COVID-19 monitoring dashboard. This new dashboard will provide a progress assessment for the local COVID-19 response. Read more…
City park and amenities open this weekend

picnic shelters
soccer and multi-use outdoor fields, including running tracks in parks
baseball diamonds and basketball courts
some public tennis courts and pickleball courts
lawn bowling and outdoor bocce
off-leash dog parks
BMX locations and skateboard parks
City-run golf courses and disc golf locations
ravine green spaces, beaches, trails and boardwalks for walking, running or biking
fishing with a licence, boating, kayaking and canoeing
If a resident arrives at a park that is crowded, they are advised to visit a different park or return at a later time when there are fewer people. Read more..
Government of Ontario
The Ontario government the government is extending the number of people allowed to attend

an indoor wedding or funeral ceremony to a maximum of 30 per cent capacity of the ceremony venue.
wedding and funeral ceremonies taking place outdoors will be limited to 50 attendees.
For both indoor and outdoor ceremonies, those attending must follow proper health and safety advice, including practicing physical distancing from people who are not from the same household or their established 10-person social circle. Read more..
Government of Canada
There were no Government of Canada updates today.
COVID-19每日更新 – 2020年6月13日
您是否同意市民在公众地方必须佩戴口罩?
市政府员工将在6月份的市政府会议提交有关市民须否在公罛地方佩带口罩的报告。我在此希望收集各位本区居民的宝贵意见。请点击这里发表您的意见。
因应政府放宽对宗教机构的限制,我向Bridlegrove Bible Chapel提供了个人防护装备。
请将此讯息传递给你的家人、邻居和朋友。如果各位希望收到我们的每日更新,请用电子邮件通知:jim@karygiannis.net
多伦多市政府
多伦多公共卫生部推出了新的COVID-19网页予公众监察最新的情况和数据。公共卫生部在抗疫过程中其中一项关键的工作是利用当前的资料和数据提出用以确保居民安全和健康的公共措施、指引和决策。随著重启措施进一步落实,这个新的监察网页将为公众提供最新的疫情评估。更多详情请阅: 点击这里
在本周重开的公园和设施

野餐亭
足球埸和包括公园跑步径、棒球场和篮球场等的多用途户外场地
部份公共网球场和匹克球场
草地滚球场球和室外滚球场
无狗带区域
BMX埸地和滑板公园
市政府营运的高尔夫球场和飞盘高尔夫球场
峡谷绿化带、海滩、步行道和可供用于散步,跑步或骑自行车的木板路
持照钓鱼,划船,皮划艇和独木舟

如果居民在到达时公园已十分拥挤,请移步至其他公园或在人数较少时返回。更多详情请阅: 点击这里
 安大略省政府
省政府将增加出席以下活动的最高合法人数

室内婚礼或葬礼合法人数是典礼场地可容纳最高人数的30%
在户外举行的婚礼和丧礼将限于50名参加者。
户内和户外仪式的参加者均须守适当的健康和安全建议,这包括与来自不同家庭或已组成的10人社交群内的人士保持身体疏远。更多详情请阅: 点击这里
 加拿大联邦政府