May 24, 2020 – COVID-19 Updates Trinity Bellwoods Park Disgrace – COVID-19每日更新 – 2020年5月24日 市民在Trinity Bellwoods公园的不负责任行为
COVID-19 Updates – May 24, 2020
 Trinity Bellwoods Park Disgrace
COVID-19 remains a real and present threat to Torontonians.  The images of thousands of people gathered in Trinity Bellwoods Park were unacceptable. Gatherings like this run the risk of setting Toronto back significantly in its efforts to stop the transmission of COVID-19.
I encourage you to go out and enjoy the warm weather, but please stay two metres apart from anyone who is not from your household.
I am asking you to continue to do the right thing to stop the spread of COVID-19: practice physical distancing by staying two metres apart from anyone you do not live with; wash your hands regularly; and use City parks and public spaces responsibly.
I received the following letter from one of our senior residents:
Dear COVidiot:
I want to know why you think you have the right to put my health at risk.  I am in the vulnerable group – I am over 70 and suffer from COPD.
Your actions of not practicing social/physical distancing are putting me at risk.  I know you are saying ¨Well then don't near us."  You can believe me when I say that I will not knowingly come within twelve feet of you if I can possibly help it. Read more…
Province of Ontario
Premier Ford is asking people to "please go get a test"— even if they are asymptomatic.

The Premier said "I am here to ask for your help today.  If you feel you need a test, you'll be able to get a test.  So please don't wait."
The announcement marks the first time people without symptoms have been told that they can get tested.
The Premier said mass testing is the Province's best defence against COVID_19 and the only way for the Province to reach testing capacity is for people to go to the Provincial Assessment Centres.
if you require information where to get tested please send me an email jim@karygiannis.net
COVID-19每日更新 – 2020年5月24日
市民在Trinity Bellwoods公园的不负责任行为
多伦多的COVID-19疫情仍然严重,昨天有数千人在Trinity Bellwoods公园聚集的情况是不能接受的。这些多人聚会可能使我们的抗疫努力付诸东流。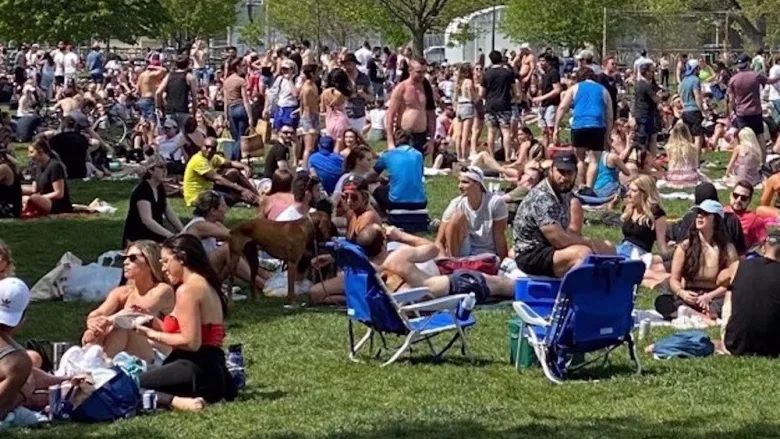 网上图片
我在鼓励各位外出享受和暖天气的同时紧记与并非住在同一户的其他市民保持最少两米距离。
我垦请各位继续为抗疫出一分力。外出时请与请与各你不是住在同一户的其他市民保持最少两米的社交离、勤洗手,和负责任地进出公园和公共地方。
以下是一封由我们区内一名长者居民的来信:
致一众COVidiot:
我是一名年过70和患有慢性阻塞性肺病的长者。我不明白你们为何觉得自己有把如我这样的高危群体至身与危险之中。
你不履行社交隔离的选择对我们是十分危险的。也许你觉得我们可以选择不靠近你,但在许多请情况下这是很难避免的,在知情的情况下我是绝对不会走到你两米范围内的地方的。更多详情请阅: 点击这里
安大略省政府
福特省长期望包括无症状的市民均接受病毒检验

省长说:「我希望各位合作,如果你觉得你需要接受病毒检验,请不要犹疑,你必定会获安排接受测试的。」
这是省政府首份有关安排无症状市民接受病毒检验的公告
省长表示,大规模测试是安省抵御COVID_19的最佳方法。安排市民到省级评估中心是最能充分使用省级机关检测能
更多有关如何能接受测试的资料,请通过 jim@karygiannis.net 发送电邮给我。