May 15, 2020 – COVID-19 Updates – COVID-19每日更新 – 2020年5月15日
COVID-19 Updates – May 15, 2020

Face Mask delivery delay by Canada Post
mail due to COVID-19
For those who were unable to pick up your free face masks, please be advised that they have been mailed to you.  Unfortunately, Canada Post is experiencing delays due to the important safety measures they have implemented their processing facilities.  For further information from Canada Post, please click here.
Face Mask Distribution to Shepherd Village Personal Support Workers
Today, I was able to distribute over 6,000 free face masks to Shepherd Village Personal Support Workers (PSWs). Every PSW received 50 free donated masks.
Personal Support Workers are on the front line caring for our loved ones and those who are least able to care for themselves during the COVID-19 crisis.
I want to thank Bridlewood Mall for their kind donation of masks.  Their generosity is helping keep the people of Scarborough-Agincourt safe and healthy.
For more pictures from today's drop-off, and to keep updated on the community going-ons during the COVID-19 emergency, please click here…: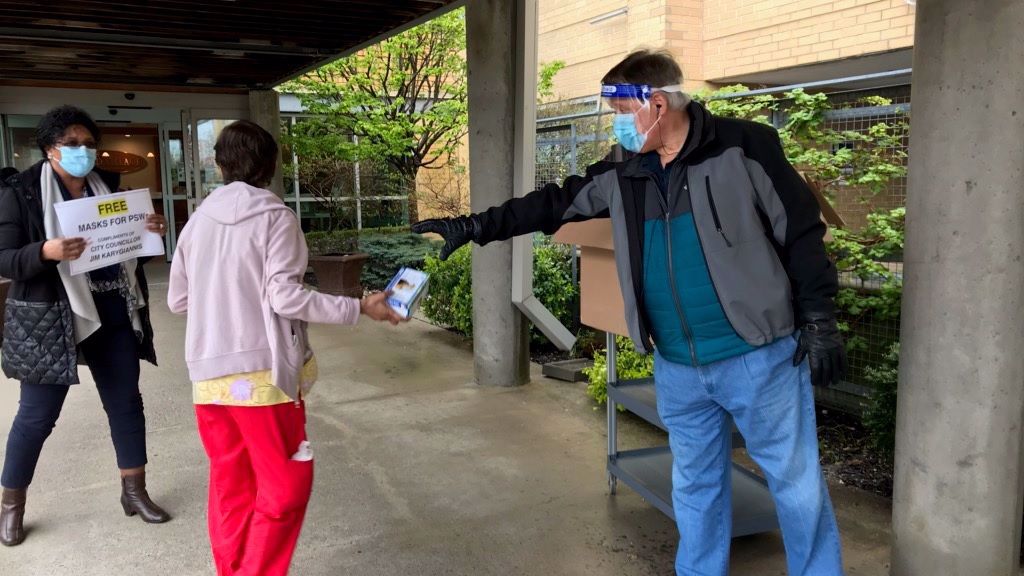 Toronto Hydro Upgrades – 4171 Sheppard Avenue East
Toronto Hydro will be doing electrical cable and hydro pole upgrades at 4171 Sheppard Avenue East. Work will begin May 2020 and is expected to be completed by August 2020. For more information, please click here.
Please take a moment to pass along this message to your family, neighbours and friends. If you would like to sign someone up for our e-mailing list, please send me their e-mail addresses at jim@karygiannis.net
COVID-19 cases reported in Toronto
8,257 total cases
160 new cases since May 13
413 hospitalized with 94 in ICU
657 deaths
6,034 recovered
Full details from Toronto Public Health,
City of Toronto
The City will be opening all 5 of its golf courses for public use. Tee times are in high demand currently. For bookings and relevant information, please click here.
The City of Toronto is extending the cancellation of City-led and City-permitted major festivals and events with attendance of more than 250 people through July 31, and those with attendance of 25,000 or more through August 31. The resumption or cancellation of professional sporting events is not included in this decision.
The City of Toronto is cancelling all planned 2020 summer camps and preparing an alternative program to get children safely back to camp through a new CampTO program. For more information, please click here.
Government of Ontario
There were no new updates from the Provincial Government today,
Government of Canada
$450 million is dedicated to temporary wage support to universities and research institutions affected by COVID-19. These funds will be delivered via federal government granting agencies.
The Canada Emergency Wage Subsidy will be extended to the end of August.
The hiring period for the Canada Summer Jobs program begins today. These jobs are intended for students and recent graduates in the Job Bank website.
The Child Care Benefit and GST/HST credit will not be cut for those who miss the June 1st filing date. The Prime Minister urges people to file on time, but says these benefits will continue until the end of September for those who miss the deadline.
The Federal Government will consult businesses and other stakeholders on further adjustments regarding the wage subsidy program. They will consider changing the 30% revenue decline threshold to ensure businesses that grow will not be punished.
 The Canada Emergency Wage Subsidy will be extended to August 29th. The eligibility for this benefit has been extended:

Partnerships that are up to 50% owned by non-eligible members
 Indigenous government-owned corporations that are carrying on business and partnerships where the partners are Indigenous governments and eligible employers
Registered Canadian Amateur Athletic Associations
Registered Journalism Organizations
Non-public colleges and schools, including institutions that offer specialized services such as arts, driving, language or flight schools
COVID-19每日更新 – 2020年5月15日

                                
加拿大邮政延迟派递邮件
如果您早前已和我们申请领取口罩,我们应该已经把您的口罩经加拿大邮政邮递给你。由于加拿大邮政的配送中心采取了更多的安全措施以保障员工的健康,派递速度因而出现了延误。更多有关加拿大邮政的详情请点击这里。
为Sheppard Village的个人护理人员所派发的口罩
我在今天各向在Shepherd Village工作的个人护理人员(PSW)免费分发了6,000多个口罩。每位个人护理人员均获得50个口罩的捐助。
在COVID-19疫情期间,个人护理人员一直在前线照顾我们的亲人和社区里最不能自顾的人。
在此我向Bridlewood Mall 为我们提供口罩致以衷心私感谢。他们的慷慨捐赠保障了我们士嘉堡爱静阁居民的安全和健康。
要得到更多有关今天的图片和我们社区在COVID-19紧急状态下的最新消息,请于以下网页浏览我的COVID0-19公告栏:点击这里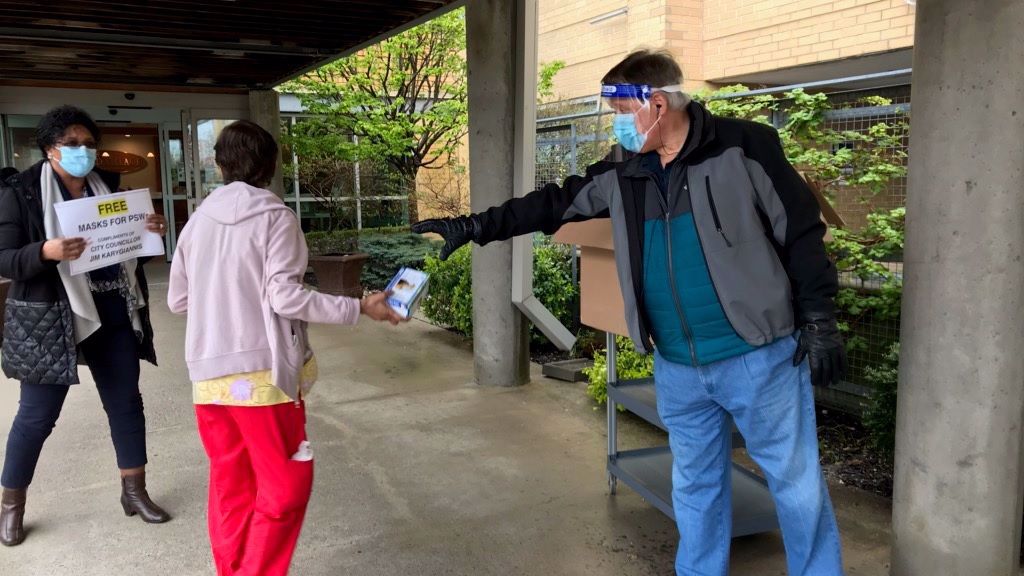 多伦多电力系统升级工程
多伦多电力公司将在4171 Sheppard Avenue East 进行电缆和电杆的升级工程。工程将于2020年5月开始,并预计于2020年8月完成。更多详情请阅: 点击这里
请将此讯息传递给你的家人、邻居和朋友。如果各位希望收到我们的每日更新,请用电子邮件通知:jim@karygiannis.net
COVID-19 多伦多市累计个案
8,257宗累计确诊病例
自5月13日起160宗新病例
413名患者需要入院,其中94人在重症监护病房留医
累计657人死亡
累计6,034人康复
更多详情请参阅多伦多公共卫生部网页
多伦多市政府
多伦多市将开放其辖下5个高尔夫球场供公众使用。现在市民对打球时间的需求十分高。有关预订和相关的资讯,请浏览:  点击这里
多伦多市已进一步取消由市政府举办和领导的节日庆典和活动。原定在本年7月31日前举行参加人数超过250人,以及在本年8月31日前举行而参加人数超过25,000人的活动将被取消。本日的更新并不包括任何恢复或取消职业体育比赛决定。
多伦多市将取消所有计划中的2020年夏令营并正在准备一项名为 CampTO 的活动,旨在让儿童安全地重新参与夏令营的计划。更多详情请点击这里
安大略省政府
省政府在今天没有任何更新,有见及此,
加拿大联邦政府
政府将提供4.5亿加元给受COVID-19影响的大学和研究机构以支援临时工资的发放。这些资金将通过联邦政府拨款机构发放给有关机构。
加拿大紧急工资补贴将延长至8月底。
加拿大暑期工计划的招聘期从今天开始。 学生和应届毕业生可在Job Bank网页浏览这些空缺。
儿童保育补贴和GST / HST税收抵免的申请并不会因为错过6月1日申请限期而被取消。总理敦促市民准时提交申请,但表示即使错过截止日期,补贴亦会为持至9月底。
联邦政府将就工资补贴计划的进一步调整咨询企业和其他利益相关者。府将将考虑更改收入下降30%的门槛,以确保发展中的公司不会受到负面影响。
加拿大紧急工资补贴将延长至8月29日。 此补贴的申请资格已扩展至:
包含最多50%非合格成员的合伙组织
由原住民政府经营并且在营运的公司和合格雇主所经营与原住民政府的合伙公司
注册的加拿大业余田径协会
注册新闻机构
非公立大学和学校,包括提供如艺术,驾驶,语言或飞行等专门服务的机构