Wave of new condos in Scarborough Agincourt now driving subway dreams
Scarborough-Mirror July 4, 2019 Mike Adler
Is Agincourt about to change for the better, or get hopelessly crowded?
The neighbourhood, especially around Agincourt Mall at Sheppard Avenue and Kennedy Road, will get many more homes over the next decade — at least 15,000 condominiums are being proposed.
It's an opportunity for Scarborough "to jump to the forefront," Kingdom Developments projects vice-president Eric Jensen said as the company broke ground on a two-tower development with 644 units next to the Delta East Hotel.
Close to Jensen, in Metrogate Subdivision on Kennedy, and on a cul-de-sac called Cowdray Court, are properties with thousands of more units planned.
Scarborough-Agincourt Coun. Jim Karygiannis brought builders behind 16 projects to a community meeting in June.
"Sheppard is going to be the new Yonge Street," Karygiannis said at the June 27 Kingdom groundbreaking as a string quartet played nearby.
The size of the change makes residents nervous about Agincourt's future.
The neighbourhood "is already stretched to the limit" on its roads, schools and social services, said Murray McLeod, a former president of Chartland's ratepayers association.
He added pressure on schools alone when the condos are built "could be calamitous."
What set off the growth explosion — and a two-year-long, area-wide development review — was a proposal to replace the aging mall with "new format retail," public streets and 5,000 residential units.
That plan by mall owners North American Development Group, revised down to 4,300 units, was approved unanimously by Scarborough councillors on June 25.
Mary Taylor, from the Greens of Tam O'Shanter Complex north of the mall, had urged defeat for the plan unless the number of units was cut in half.
Taylor said she welcomes a rebuild because the current mall, which opened in 1966, is "an eyesore," but warned the approved plan is "nowhere close" to one which benefits residents around the 26-acre property.
Not everyone was so critical. In a letter, the Sheppard East Village Business Improvement Area said the plan is "not only good for the former Agincourt Mall, it may well be a model that can be emulated elsewhere."
Lindsay Dale-Harris, speaking for Bousfields planning consultants, said the new mall will have just as much retail space, with a fifth of the property converted to parkland.
There will be up to 10 highrise towers, mid-rises along Sheppard, and townhouses around tower bases, she said, providing housing which is "transit oriented," in demand and which "will meet the needs of all ages and all stages in the community."
But where, apart from more frequent GO trains coming soon to the Agincourt Station nearby, is the transit?
Like others, Rhoda Potter, president of Agincourt Village Community Association, which represents homeowners east of the mall, sees "gridlock" on the way unless Scarborough's subway network catches up to neighbouring North York.
The Progressive Conservative government's plan to extend the Bloor-Danforth subway now includes a stop on Sheppard, but it's at McCowan Road, 2.7 kilometres east of the mall and its already busy Kennedy-Sheppard intersection.
Premier Doug Ford has said he wants to keep on building stops east of McCowan on Sheppard after the current extension is finished, but that, even if approved, could be a decade or more off.
Still on the books, meanwhile, is the Sheppard East Light Rail Transit line from Don Mills Road to Morningside Avenue, approved by the province but shelved indefinitely.
Karygiannis doesn't want the LRT line built, and objected when Dale-Harris mentioned it.
"We're talking about a Sheppard subway," he told her.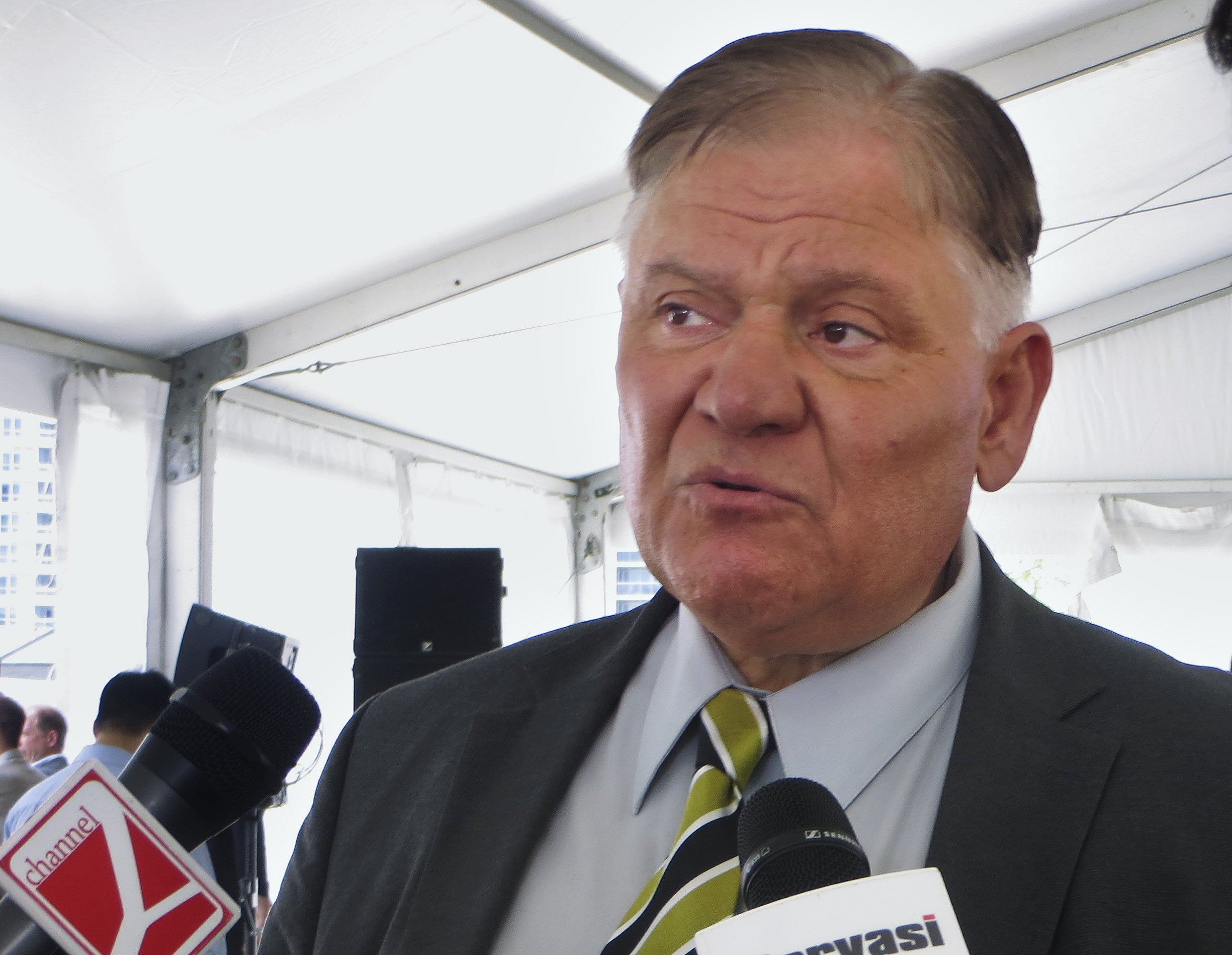 Experts once judged the LRT more sensible than a subway on Sheppard, but Karygiannis now argues the coming wave of Agincourt condos justifies a subway's cost.
He has no guarantees, but said he'll work for a Sheppard subway extension "to my last breath," and believes construction could start during the next decade.
Another transit plan once placed an LRT station in Metrogate, and Jensen said "any modelling of any transit plan" leads people to expect some higher-order transit in the area.
People moving into thousands of new units in Agincourt will express support for it, too, he predicted. "That kind of vocal support drives infrastructure."
The city is studying a new north-south road and pedestrian path to connect Village Green Square and Metrogate with Sheppard Avenue east of Kennedy.
Other Scarborough malls have proposed redevelopment plans, unpopular with neighbours, which went nowhere. In 2010, after two years of talks and tinkering, councillors approved eight condo buildings at Bridlewood Mall.
They remain unbuilt.