Councillor says his ward 'infested' with spas selling sex
Scarborough-Mirror March 19, 2019 Mike Adler
Whether they sell sexual services or not, there's no evidence workers at any of Scarborough's many spas are being trafficked, people told a City of Toronto consultation in Agincourt.
The city licenses both body rub parlours –limited to 25 across Toronto — and 389 holistic centres required to offer only "medical or therapeutic treatment."
When bylaw officers or police enter holistic spas suspected of offering sex, they assume human trafficking is involved, advocates for spa workers said at a March 11 session for opinions on the licensing bylaw.
Toronto City Council directed its Municipal Licensing and Standards Division "to use an anti-human trafficking lens" in reviewing the bylaw.
The advocates, however, call current enforcement in Scarborough excessive and — since most spa workers are Asian women — charge it amounts to racial profiling.
"A lot of these workers have nothing left, so they are forced to work in this industry" said Kingsley Kwok, representing the Toronto and York Region Labour Council's Chinese Workers Network.
"The workers I know are immigrants or holders of visas. They don't claim they are being trafficked," but rather they're "stuck," without other jobs to go to, Kwok said.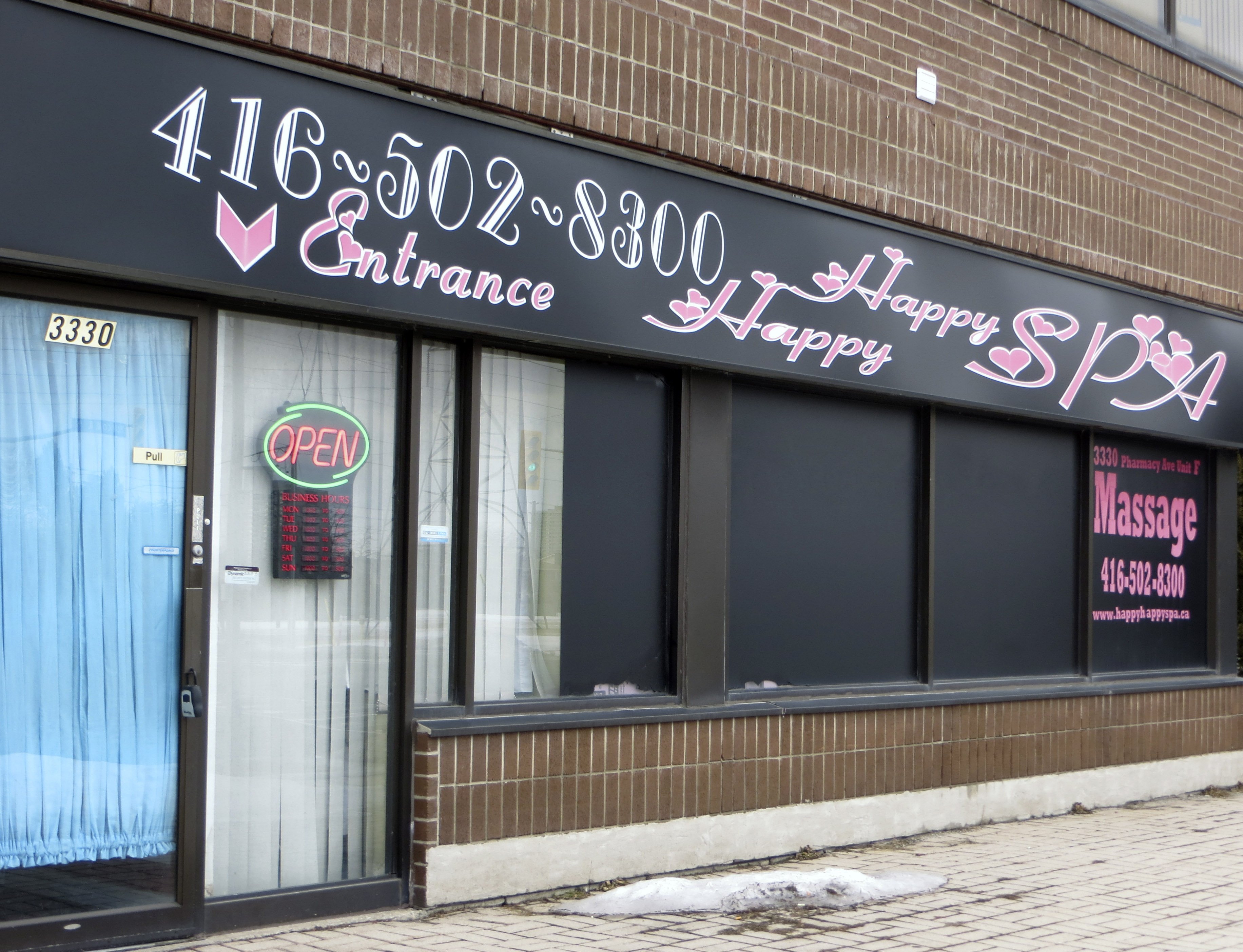 There's evidence many holistic spas, which pay $270 for a licence, stray into the erotic, "non-therapeutic" services allowed at body rubs, which pay $13,102 for a licence.
A 2017 report to council said 107 of the then-410 licensed holistic centres "appeared to be offering services outside their licensing parameters." MLS charged 37 over the previous two years, but all continued operating under holistic licences, the report said.
The city is considering increasing the number of licensed body rubs, and may drop licensing requirements for holistic centres altogether, participants were told at Agincourt Public Library.
Scarborough-Agincourt councillor Jim Karygiannis said his ward is "infested" with spas selling sex, and argued their owners are exploiting women, some of whom are forced into sex work.
Calls from constituents to shut such places down are "coming in fast and furious," he added.
The councillor's ward does have Scarborough's only licensed body rubs – two – and 51 of its 121 holistic centres.
At a large number of holistic spas, "if you're canny enough to ask," said Karygiannis, you get "other things."
If we accept that, the councillor added, "we can look at what's happening in Amsterdam," by asking the federal government to make prostitution legal, and moving it to one area of Toronto.
Betty Wu-Lawrence, a public health nurse from Scarborough, said normalizing the urge to seek body rub services is a good idea, and the city should avoid shaming workers who may be single mothers or newcomer women abandoned by male sponsors.
"Within the Chinese community, there is so much stigma about taking such a job," said Wu-Lawrence, but added community members, "do not want to close the door for some of our sisters to make a living."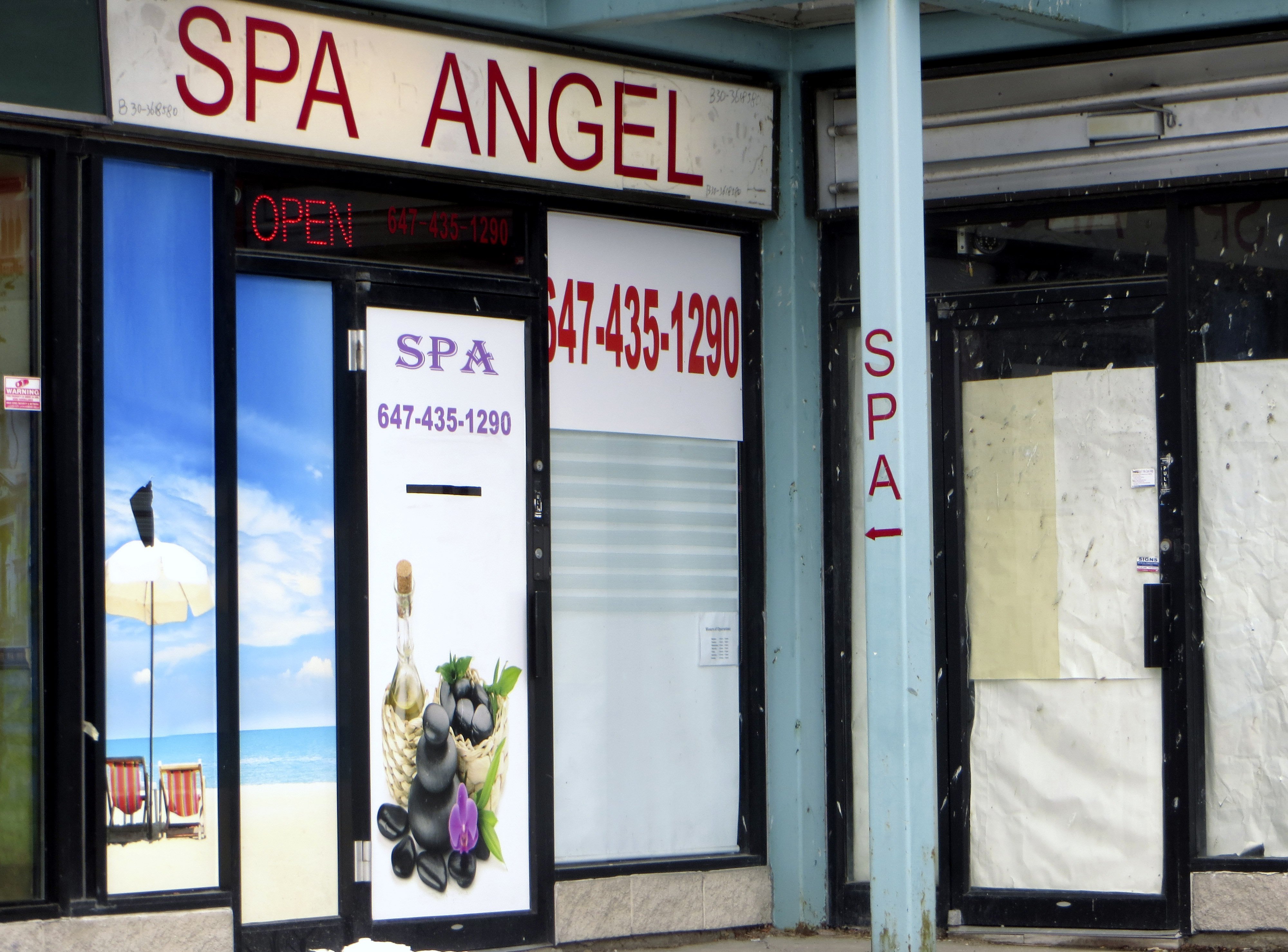 One woman, who wouldn't give her name, said despite Toronto's status as a Sanctuary City, some spa workers are undocumented, and visits by law enforcers trigger fears about possible deportations.
Not everyone at the consultation was convinced spa workers aren't being forced to sell sex.
"When you see the signs saying, 'Girls, girls, girls; new girls every week,' that's trafficking," argued Michelle Spear, a Scarborough resident.
Spear was doubtful about a city proposal to post educational material on trafficking at spas. People being trafficked can't leave, she said.
But Justin Kong, community organizer for the Chinese Canadian National Council Toronto Chapter, took another view. "If you (push) underground their activities, will that help? If they're operating, we need to ensure they're safe," he said.
A report recommending licensing changes for spas is expected at a city committee in May.