May 15, 2016 Ward 39 Updates
Dear Constituents,

We look forward to welcoming you to our upcoming
Community Compost Day
                               on
Saturday, May 28th
from 10:00 AM until 2:00 PM
                               at
Bridlewood Mall.
Council Highlights important to Ward 39
Toronto City Council meeting of May 3, 4 and 5, 2016
http://karygiannis.net/wp/2016/05/14/toronto-city-council-update-may-2016/
Community updates
Newsletter
We are in the process of delivering our May Newsletter
You can download an electronic copy here:

Does your organization want to hold a picnic or social gathering in a City of Toronto Park?
If your group, of more than 25 people, is planning an event in a City park, you will need to contact the City of Toronto Parks, Forestry and Recreation Permit Call Centre to obtain a permit for your event. This also applies to a gathering that requires a designated "picnic" site, such as a picnic shelter. Click here for more info http://karygiannis.net/wp/2016/05/13/picnics-social-gatherings/

Please order your 'Slow Down Signs'
The safety of all road users is a priority for the City of Toronto. That's why the City is reminding pedestrians, motorists and cyclists to take extra care, especially when travelling in residential neighbourhoods. Click here to order your sign: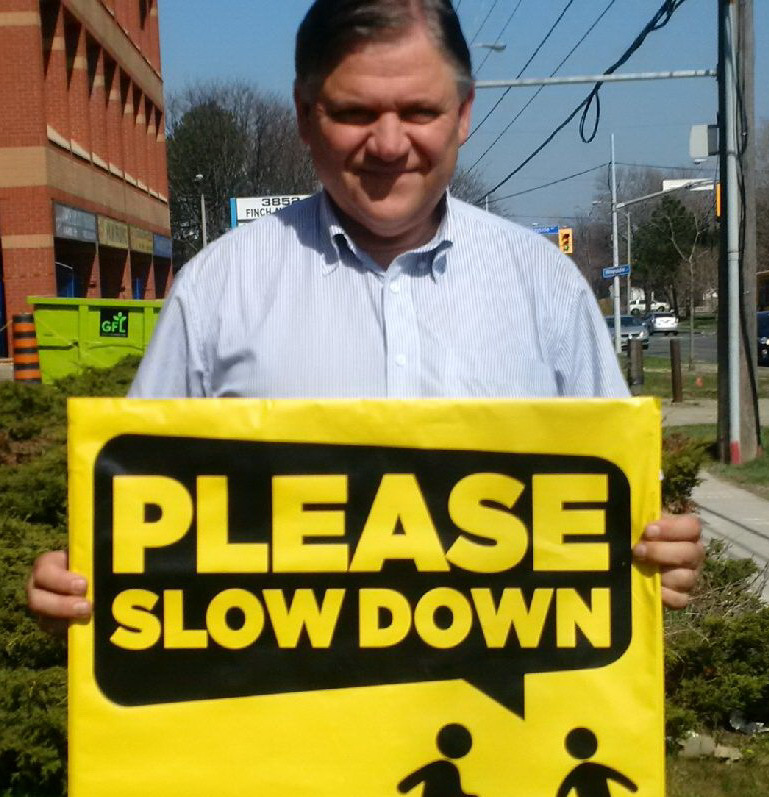 Cutting of Grass
With summer just around the corner please ensure that you cut your grass. If grass grows over 8 inches City staff may perform the necessary work to bring the property into compliance. The cost of this work and administration fees may be charged to the owner's property taxes Click here to read more:
http://karygiannis.net/wp/2016/05/13/may-26-2015-long-grass-weeds-and-natural-gardens/

Keeping our Neighbourhood Safe with "Traffic Calming"
Heathwood residents (Steeles, Kennedy, Birchmount, McNicoll)
We have received many requests in your subdivision for "Traffic Calming" devices. Keeping our city streets safe for everyone is an important responsibility for me and my staff. Using measures to "calm" the traffic is one way to help do this effectively Click here to have your say: http://karygiannis.net/wp/local-engagement-2/

Enbridge GTA Project Update
The construction of the fifty kilometer Enbridge GTA Project has been completed. The area in Ward 39 that
was affected was the utility corridor that runs parallel to Pharmacy Avenue south from Steeles Avenue East
to Finch Avenue East. Read more.
Hydro One Vegetation Maintenance
This month Hydro One will be completing vegetation maintenance work along the transmission corridor in our neighbourhood, between McNicoll Avenue and Steeles Avenue
http://karygiannis.net/wp/2016/05/14/may-15-2016-hydro-one-vegetation-maintenance/
LOCAL FOOD BANK NEEDS YOUR HELP
The Agincourt Community Services Association Food Bank located at 1911 Kennedy Road, Unit 105, in the ACSA Dorset Park Community Hub, is struggling to provide food hampers adequate to the needs of its clients and requires greater community support in raising donations.
http://karygiannis.net/wp/2016/05/14/local-food-bank-needs-your-help/
A Traffic Light at Mountcastle and Steeles?
There have been a number of accidents at Steeles Avenue and Mountcastle Gate as people make left-hand turns (westbound) onto Steeles Avenue. Recently, area residents contacted my office and requested a traffic light at the intersection saying it would help stop accidents and inevitably save lives. Have your say click here
Boulevard Grass cutting 1st cut May 2016
http://karygiannis.net/wp/wp-content/uploads/2015/05/1st-cut.pdf
The new Green Bin is coming to Scarborough
Rollout starts this spring! We are phasing in delivery across the City beginning with the Scarborough community starting this spring. It will take six months to complete delivery to Scarborough.                                  Read More..
Cultural Messages
May 14, 2016 – Israeli Independence Day
I would like to take this opportunity to extend my best wishes to members of the Canadian Jewish community on the occasion of Israeli Independence Day (Yom Ha'atzmaut.)
May 17, 2016 – 102nd Anniversary of the Pontian Genocide
May 18, 2016 – Somaliland Independence Day
May 20, 2016 –  Vesak Day
May 23, 2016 – Victoria Day
May 26, 2016 – Guyanese Independence Day
The messages above will appear two days before the celebration date on my website click here:
If we have missed any important dates, please email and let us know jim@karygiannis.net
We will be glad to add them.
If you require additional information and or assistance with municipal related items, please do not hesitate to contact my office at 416 392 1374.
Regards,
Jim Karygiannis
Councillor Ward 39
Trackback from your site.